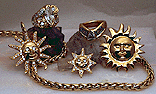 Rosemary Sheffer's
Expressions in Gold

Rosemary Sheffer began creating fine jewelry more than 20 years ago, after completing extensive artistic training which took her around the globe. Visit her store "Expressions In Gold" in Ketchum, Idaho (260 N. Main) during your visit to World Famous Sun Valley. Some of her work is featured here and custom orders are her speciality. Order your special piece over the internet and pick it up during your visit to Sun Valley.

Here are a few of Rosemary's custom creations:
5.25 carat diamond Rose ring for Donna in 18K gold
brilliant diamond and baguette ring in 18K for Amy
pyramid 18K ring for Bob who wanted a similar ring to the one ordered for Amy
1 carat total weight diamond sun pin/pendant
elk tooth ivory 18K ring for the wife of the hunter who brought home dinner!

Large diamond sun, 1 carat total weight; 14K gold, $2889; 18K gold, $3300.
Picabo sun diamond, .42 carat total weight; 14K, $1199; 18K, $1399.
Quarter sun diamond, .50-.55 carat total weight; 14K, $1499; 18K, $1699.

Chains are extra. Call for prices and styles available. We have an extensive inventory.

Money Clips -- sterling -- plain or engraved, you specify; with silver sun: $99, $149, $149; with the 14K gold sun, $249, $299, $299.
Follow these links to see more examples of my work:

If You can imagine it, I can create it!

Fulfill that dream you've been having about your perfect piece of jewelry.
Let Rosemary Sheffer design and create your dream piece just the way you want it.
[ ABOUT ROSEMARY ]

I would love to discuss your custom design,
please use this form to contact me.
Everything is optional except your name and e-mail address. Use the tab (or your mouse) to move from field to field. I look forward to hearing from you.

Back to The Town Square.
Back to Sun Valley Information.
Jump to Main Idaho Map
Jump to Region 1 Jump to Region 2 Jump to Region 3 Jump to Region 4
Jump to Region 5 Jump to Region 6 Jump to Region 7
Jump to Mountain High Internet Services


Member of the Internet Link Exchange


member of the bannerCAST network

Ad management by LogicLink


Thank you for visiting our site.

© 1997 Idaho Central Reservations
Most recent revision Thursday, June 19, 1997