Idaho Central Reservations
North Idaho, Region 1
North Idaho is a land of deep forests, abundant flowing rivers and many beautiful lakes. In fact there is no greater concentration of lakes in any western state than in the panhandle of Idaho. Amid all these forests, rivers and lakes, deep in the ground is a concentration of silver which makes North Idaho the world's leading silver producing area. Visit the Wallace District Mining Museum in Wallace for more information. The Northern Pacific Railroad Museum is located in Wallace also. Abundant recreational possibilities exist in North Idaho from snow skiing at Schweitzer Mountain or Silver Mountain to sailing on Lake Coeur d'Alene. Bird watchers will not want to miss the 2,000 species of birds in the marshlands of Kootenai National Wildlife Refuge near Bonners Ferry. Coeur d'Alene and Sandpoint are excellent choices from which to explore all of North Idaho.
This information is best viewed with Netscape v2.0 or better. Get your copy here

Click on the city you would like to visit.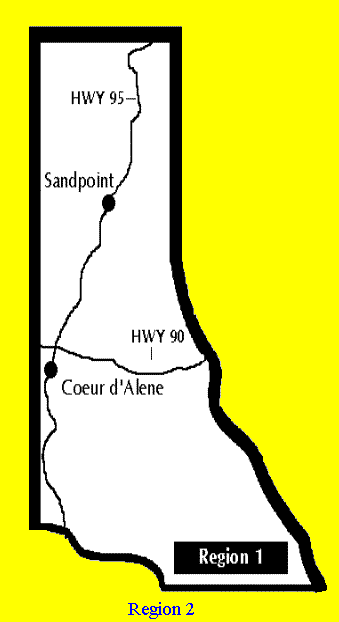 Visit Region 1 Cities
Jump to Coeur d'Alene - Jump to Sandpoint

Click here to learn how to send faxes over the internet for only ten cents per minute.


Click here to advertise your Idaho business in our directory for only $15.00 per month!

Member of the Internet Link Exchange

member of the bannerCAST network

Ad management by LogicLink


Thank you for visiting our site.

© 1997 Idaho Central Reservations
Most recent revision Saturday, September 27, 1997