Idaho Central Reservations
Central Idaho, Region 7

Central Idaho is extremely diverse. You'll find high deserts with ancient lava flows frozen in time at Craters of the Moon National Monument, rich farm lands and the Central Idaho Rocky Mountains where world famous Sun Valley, Idaho is located.
Just north of Sun Valley is the Sawtooth National Recreation area, a land of high alpine lakes and vast rolling acres of high meadows bordered by the Sawtooth Mountain Range. These massive, serrated mountains are as majestic as any in the world and are fondly called the "American Alps".
Mount Borah, Idaho's highest mountain peak is also located in Central Idaho. Standing 12,662 feet, Mt. Borah is a challenging day hike for visitors from Acro, Challis and Sun Valley.
Central Idaho is a four season playground of outdoor activities and contains some of the most beautiful scenery in Idaho. You'll certainly want to plan for a stop in Central Idaho. It could easily become your primary destination in Idaho.
This information is best viewed with Netscape v2.0 or better. Get your copy here

Click on the city you would like to visit.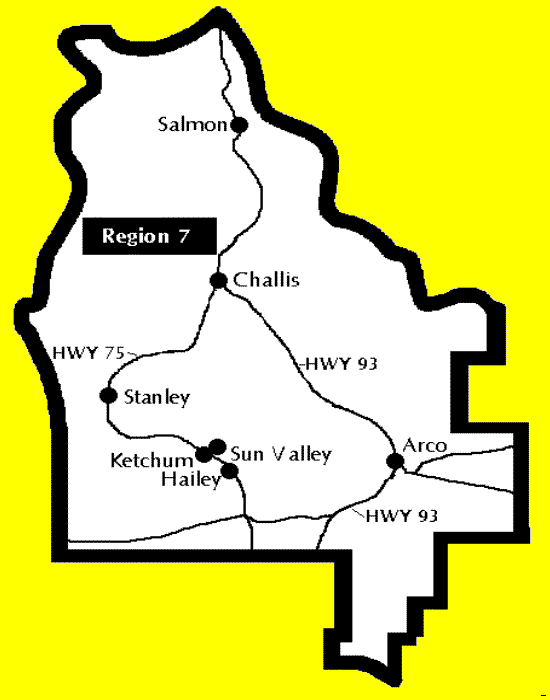 Visit Region 7 Cities
Jump to Acro - Jump to Challis - Jump to Salmon - Jump to Stanley - Jump to Sun Valley

Click here to learn how to send faxes over the internet for only ten cents per minute.


Click here to advertise your Idaho business in our directory for only $15.00 per month!

Member of the Internet Link Exchange

member of the bannerCAST network

Ad management by LogicLink


Thank you for visiting our site.

© 1997 Idaho Central Reservations
Most recent revision Saturday, September 27, 1997